✻
Glenfalloch is one of Dunedin's Top Restaurants consistently #1 on TripAdvisor; superb cuisine set in a beautiful historic woodland garden on Dunedin's stunning Otago Peninsula.

DINING AT GLENFALLOCH
Whether you want to escape for a quiet coffee or lunch on the deck, or treat yourself to a stunning "Trust the Chef" surprise dinner menu come and enjoy our superb cuisine and find out why our guests rave about us.
"Best Food in Dunedin. Glenfalloch has a fabulous menu and uses tasty fresh organic produce. We loved this philosophy. The food was delicious full of delicate flavours. It was also complex dishes that I wouldn't cook myself. A stunning venue, 5 star Cuisine. Highly recommend" TripAdvisor Review
Celebrations, parties and weddings our specialty.
GARDEN OPEN daily 9AM- DUSK
Restaurant Open: 9.30am-3.30pm Weds-Sun. From 5.30pm Thu/Fri/Sat
Bookings Highly Recommended
BOOK NOW Ph 03 476 1006 or Online
Easter Bunny Hunt
21 April 10am-2pm
Come and hunt for Easter Bunnies at Glenfalloch Garden. Get the map to discover the clues and win a little Easter treat.
$3 per child – cash only.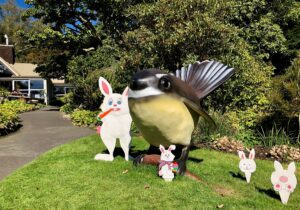 Wild Dining at Glenfalloch for Wild Dunedin Festival 25 April
Eat wildly and tantalise your tastebuds with a fabulous "Trust the Chef' wild food dinner in Glenfalloch's garden setting. Hannes Bareiter, creative chef extraordinaire, showcases inspired dishes using local wild produce. Glenfalloch is Dunedin's #1 restaurant for exciting innovative cuisine.
Five Courses $79 Bookings essential as places limited. 03 476 1006
Aperitif – Gorse-flower Champagne
Canape – Tahr and Shitake Croquette with Kawakawa Creme Fraiche
Ants on a Cod | Chickweed/Tobiko/Wakame
Coffee & Cocoa Venison | Quince/ Beetroot/ Goats Cheese
Bunny Bunny Hop | Nettle/ Neudorf Mushroom / Prosciutto
Ostrich 55*C | Chestnut Dauphine/ Horopito/ Douglas Fir
Woodruff Bavarois | Rosehip/ Locust/ Chilean Guava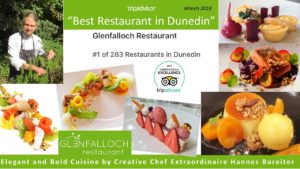 Experience Glenfalloch Restaurant as you dine in one of New Zealand's most gorgeous gardens.
Enjoy superb cuisine created with fresh local produce from artisan suppliers and imaginatively crafted by award-winning chef Hannes Bareiter. Glenfalloch's menus showcase the best of Otago's seasonal ingredients and local delicacies – Try the famous "Trust the Chef" menu for an exciting degustation experience of delicious tastes and flavours.
Explore Glenfalloch Garden, 30 acres of historic garden begun in 1871 and filled with splendid plantings. Stroll amongst the beautiful seasonal displays and enjoy the lush surrounds – native ferns, exotic imports and indigenous New Zealand trees.
Glenfalloch Garden is owned by Otago Peninsula Trust NZ's first private charitable conservation trust- your support helps keep this special place open for all to enjoy.
Restaurant Open Wednesday – Sunday | Lunch and Coffees 9.30am-3.30pm
Thursday/ Friday/Saturday | Dinner from 5.30pm Locals Night Thursday, free BYO of one wine bottle per couple.