Discover
Glenfalloch
✻
Glenfalloch is one of Dunedin's Top 10 Restaurants; a beautiful restaurant set in a historic woodland garden on Dunedin's stunning Otago Peninsula.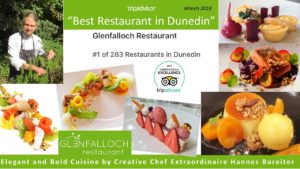 Experience Glenfalloch Restaurant as you dine in one of New Zealand's most gorgeous gardens. Enjoy superb cuisine created with fresh local produce from artisan suppliers and imaginatively crafted by an award-winning chef. Glenfalloch's menus change regularly to showcase the best of Otago's seasonal ingredients and local delicacies. Stroll amongst the beautiful seasonal displays and enjoy the lush surrounds – native ferns, exotic imports and indigenous New Zealand trees.
Glenfalloch Garden is owned by Otago Peninsula Trust NZ's first private charitable conservation trust- your support helps keep this special place open for all to enjoy.
GLENFALLOCH EVENTS
Easter Egg Hunt | Monday 2 April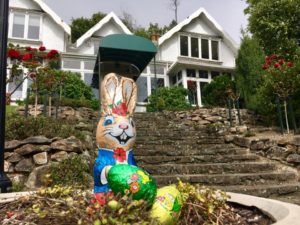 Come and hunt for Easter Eggs at Glenfalloch Garden. Buy a cuppa or lunch at the chalet restaurant and get the map to discover the clues…
WILD DINING AT GLENFALLOCH | 22 APRIL
Experience wild night dining with a surprising 'Trust the Chef' five course wild food dinner on Sunday 22 April from 6pm-10pm in Glenfalloch's garden setting.
Try Wild Dunedin's nettle beer brewed by Steamer Basin.
Tantalising treats await guests for an evening of wild dining at Glenfalloch Garden Restaurant
Creative chef extraordinaire Hannes Bareiter will showcase inspired dishes using local wild produce.
Guests can trust the chef to deliver a superb evening of creative cuisine, they are in very clever hands. Hannes has a Masters Degree in Culinary Arts and Kitchen Management from Germany and has worked in five star restaurants both in Germany and New Zealand.
Hannes says his inspiration comes from the wonderful local produce,
 " For the Wild Food Dinner I'll be using the best of regional wild ingredients some of which we're foraging from the Glenfalloch garden".
Cost:  Five Courses $69 pp Limited Seats available. Bookings Essential/limited numbers Ph: (03) 476 1006