✻
Glenfalloch is one of Dunedin's Top Restaurants consistently #1 on TripAdvisor; a beautiful restaurant set in a historic woodland garden on Dunedin's stunning Otago Peninsula.
When you want to escape for a quiet coffee or lunch on the deck, or treat yourself to a stunning "Trust the Chef" surprise dinner menu come and enjoy our superb cuisine.
GARDEN OPEN daily 9AM- DUSK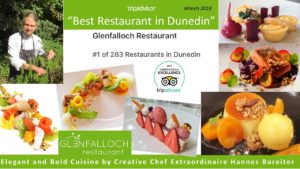 Experience Glenfalloch Restaurant as you dine in one of New Zealand's most gorgeous gardens.
Enjoy superb cuisine created with fresh local produce from artisan suppliers and imaginatively crafted by award-winning chef Hannes Bareiter. Glenfalloch's menus showcase the best of Otago's seasonal ingredients and local delicacies – Try the famous "Trust the Chef" menu for an exciting degustation experience of delicious tastes and flavours.
Explore Glenfalloch Garden, 30 acres of historic garden begun in 1871 and filled with splendid plantings. Stroll amongst the beautiful seasonal displays and enjoy the lush surrounds – native ferns, exotic imports and indigenous New Zealand trees.
Glenfalloch Garden is owned by Otago Peninsula Trust NZ's first private charitable conservation trust- your support helps keep this special place open for all to enjoy.
Restaurant Open April-Sept: Wednesday – Sunday | Lunch and Coffees 9.30am-3.30pm
Thursday/ Friday/Saturday | Dinner from 5.30pm Locals Night Thursday, free BYO.